Let cuddle time continue with your best friend with the help of  Folding Pet Steps, fold near the stand. If your dog or cat isn't quite tall enough to reach the bed or couch, or if you want to help protect their joints, folding pet steps give your furry friend the freedom to get on and off furniture all by themselves. Weighing only 9 pounds, these pet steps are easy for you to carry and move around your house. Although light, the strong, durable folding steps can support up to 200 pounds and are suited for small to medium size pets. The fabric covers, siderails and nonskid feet allow your dog or cat to confidently walk up and down the pet steps without the steps sliding around or wobbling. Between snuggle sessions, you can conveniently store the pet steps by folding them flat and sliding it under a piece of furniture. PetSafe brand is here to help you and your pet live happy together.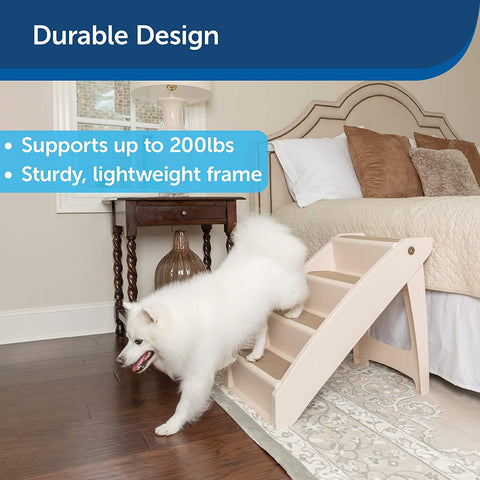 FEATURES:
Training your pet to use the stairs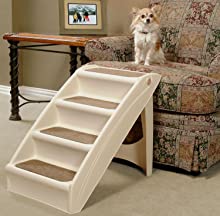 Step 1
Place the steps near the piece of furniture your pet likes to use, as if they were going to use it. Let the pet approach the steps on their own, but make sure to give them a treat when they get close to the steps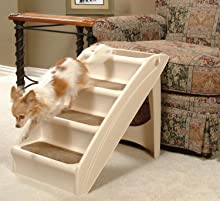 Step 2
When your pet touches the chair with their paw, nose or any other part of them, give them a couple of treats and praise. Continue to do this until your pet walks completely up the stairs to their destination.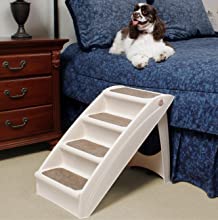 Step 3
When your pet is sitting comfortably on the furniture, ask them to come back down the stairs, coaxing them with treats and praise consistently. When they begin to come down the stairs, give them plenty of space. When they reach the bottom of the stairs, give them a couple of treats and praise.
If your pet is still uncomfortable after steps 1-3, repeat them until they are at ease using the steps.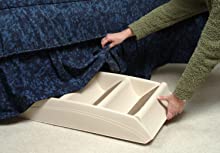 Step 4
Folds down for easy storage, when not in use.
The pet stairs are an attractive, affordable way to help pets reach their favorite places. Their modern styling blends well in any décor. The unique construction of these stairs supports up to 200 lb. There is no assembly required, and they fold down for easy storage. Although they are super-strong, the PupSTEP Plus stairs are intended for small- to medium-sized pets, due to the size of the individual step sections.
Helps pets reach their favorite places

Can hold up to 200 lb.

Folds down for easy storage

Modern styling

Built-in safety side rails

Non-skid feet included

Cleans easily with mild detergent

No assembly required